Stephen Colbert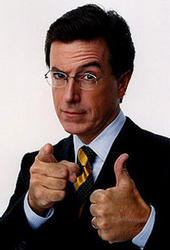 Stephen Colbert is a three-time Emmy Award winning comedian, satirist, actor and writer. He is known for his satirical style, in particular, as the uninformed host of the Colbert Report. Colbert may have several Ninja-like abilities, but the one he is most noted for is his unparallel ability of truthiness.
Due to Colbert's efforts, truthiness was named the American Dialect Society's 2005 word of the year. In December of 2006, Merriam-Webster also announced that it selected truthiness as its Word of the Year for 2006. Votes were accepted on their website, and according to poll results, truthiness won by a five-to-one margin
Truthiness is the backbone of Crustianity and Stephen Colbert is the gut that powers truthiness. Colbert claims that he is a devote Christian, but that is just to hide the fact that he is one of the most powerful Crustianity prophets, a true Ninja.
More information about Stephen Colbert can be found at the sites below.
Stephen Colbert at Wikipedia