Clark Adams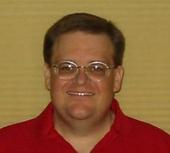 Clark Adams was a prominent American freethought leader and activist. He actively promoted the Secular Student Alliance and briefly sat on the Board of Directors for the group. Clark was one of the founders of the Secular Coalition for America. He was founder and president of the Las Vegas Freethought Society and former president of Humanist Association of Las Vegas and Southern Nevada. He also was the organizer of the Las Vegas Atheists, which he described as "a local group of fun godless heathens in Sin City."
Before Clark's death, it was obvious that he had the Ninja ability of super speed, having the seemingly capability to be in multiple locations at once. It is rumored that he was one of the few select Ninjas on the Ninja Council. His presence as a Ninja Master and as a leader in the freethough community will never be forgotten.
More information about Clark Adams can be found at the sites below.
Clark Adams at Wikipedia