Brandon Muller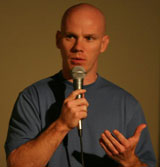 Brandon Muller is an up and coming comedian in Las Vegas. Not only does he have the obvious Ninja ability to cause uncontrolable laughter, he also seems to have the ability of prophecy. Hi prophetic ability comes through in his stand up act as he gives away knowledge that was previously only known to members of the Ninja Council. A third Ninja Power that Brandon seems to posess is his extreme leaping ability. However, as seen in the link below, Brandon has not yet mastered the landing.
Evidence of Brandon Mullers amazing leaping ability.
Here is Brandon's Stand Up or Sit Down Video Submission which demonstrates his knowing of Satan's Boxing career and Crustianity's love for religous cussing.
More information about Brandon Muller can be found at the sites below.